Let me know if this sounds familiar to you: You noticed a bit of missing grout in your shower, or, you have been ignoring a cracked tile near the sink. Is your stone countertop or floor scratched or dull? Most of us have been in a bathroom or kitchen that's clean but damaged, and it's easy to ignore such minor blemishes.
It may be time for damaged grout repair, tile replacement, or grout and tile cleaning. Over time, these small issues become larger problems. Scratched or cracked tiles will allow dust and dirt to adhere to its surface.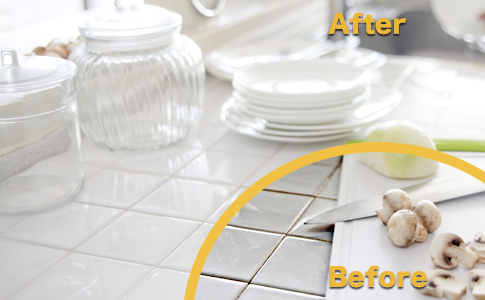 Common reasons for damaged grout
One of the most common issues is missing grout along baseboards. DIY fans often use grout along baseboards, but grout does not allow space for movement and can crack. We apply sanded caulk along baseboards because caulk allows for slight movement without fracturing.

Not only are cracked tiles and missing grout unsightly, if it is not repaired, the surface will continue to collect dirt and oily residues. This can cause additional staining and ultimately lead to a costly replacement of the flooring.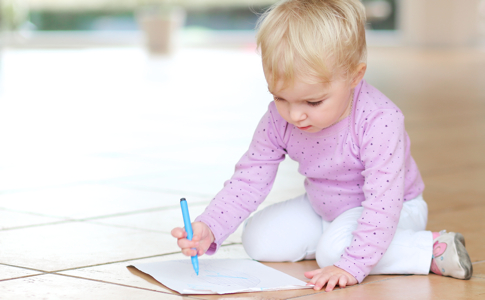 Water behind tiled areas will begin to smell like mildew and can encourage the growth of toxic mold. Without tile repair, it is likely that the wall behind the tile will sustain further damage.
Keep your home floor safe for your family with Grout Rhino
Rather than ignoring a bathroom or kitchen that's slowly becoming dingy, contact us to get a free estimate for cracked tile replacement and damaged grout repair.
Grout Rhino is your best damaged grout repair solution
Grout Rhino can prevent small issues from developing into serious problems with damaged grout repair and cracked tile floor replacement, if you have extra tiles available. Grout Rhino will also match the grout color as closely as possible.
After replacing your cracked tiles, your tile floor and grout lines will look like new again. Grout Rhino recommends cleaning and sealing after the tiles are replaced and grout repairs are made. We also recommend recoloring your grout after the damaged grout repair. Thanks to our amazing grout sealer system, ColorSeal, you won't be able to see where the replacement was done. Our color grout sealer will ensure grout color consistency throughout your tile floor. Choose one of our ColorSeal options for your home. Often, we can complete your job in just one day so you can start enjoying your restored surfaces right away!
Benefits of our Grout Repair & Cracked Tile Replacement Services
Enhance the appearance of your home
Prevent water from being trapped behind tiles
Eliminate development of mildew and odors
Reduce your risk of expensive repairs in the future
Fit your busy schedule: we're available after hours and on Saturdays, ready to provide our grout and tile cleaning services.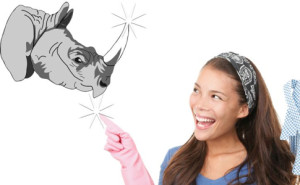 Our Damaged Grout Repair & Tile Replacement Process Steps
Grout & Tile Inspection. We begin with a thorough inspection and will discuss our recommendations with you. We're happy to address any questions or concerns, and will provide you with a written proposal that includes a description and cost of the grout cleaning and tile repair work to be completed.
Preparation. Next, we prepare all of the necessary grout, caulk, and seal colors before starting your job. We will move your furniture for you.  We have protective pads to move your furniture without damaging your floor.
Grout and Tile Restoration. In order to deliver a truly finished look, we recommend removing and replacing all of the caulking in the area to be restored. We then clean all of the tiles and grout by hand, using an appropriate proprietary solution. Depending on your grout's condition, we will either remove and replace it, or re-grout it all by hand.
Grout Color Sealing. Our last step is to seal the restored area. If we are not replacing your grout, but you want it to look new, we will apply a stain seal to restore its original color. Grout Rhino will try to match the color as closely as possible.
Grout Sealer ColorSeal Available
We can change the grout's appearance by applying an entirely different color stain seal. Call us today for a Grout Sealer ColorSeal FREE Estimate - (203) 273-6803.
For more grout cleaning and grout sealing repair examples and reviews, visit our Facebook Page.