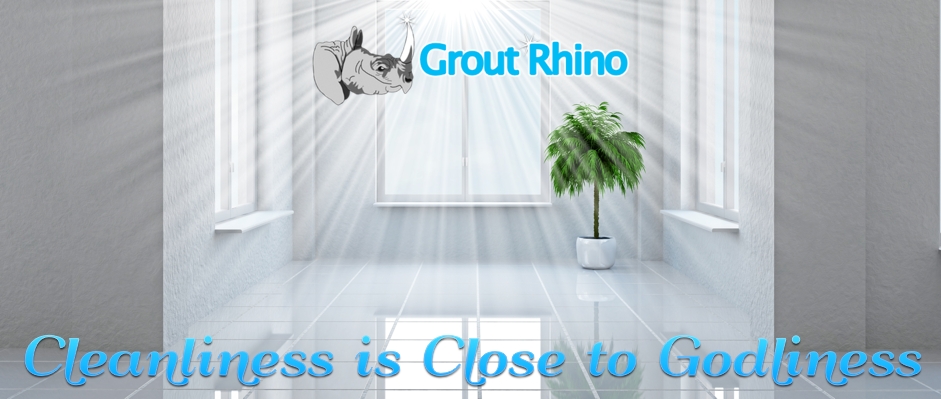 There is something spiritual about the experience of making something clean and aesthetically pleasing. This is true about cleaning yourself,  your child,  or even your home. You get lost in your thoughts. The physical labor, somehow, cancels out the anxiety that those thoughts can, at times, produce.
Cleaning customers tile floor and grout adds another feeling of satisfaction. This feeling is not so much spiritual.  In fact, it produces a sense of accomplishment, and even a feeling of pride.
Grout Rhino will keep your Home Tile & Grout Looking like new
Dirty grout is perhaps the most difficult part of ones home to clean. It requires elbow grease, getting on one's knees, and breathing in fumes. This is why the service that Grout Rhino provides will grow.
Grout Rhino uses non-toxic and eco-friendly chemicals and equipment
Yes the rhino is green.  Speaking of color; Most people probably do not realize that they have the option of choosing from a multitude of shades when it comes to using ColorSeal (Grout Rhino's flagship service). I have yet to fail in putting a smile on my customers' faces after providing them with our five step service.
Grout Rhino Tile  & Grout Cleaning – Five Cleaning Step Services
Vacuum up any solid debris from the floor

Apply a biodegradable, butyl-based floor cleaner and scrub the grout into submission

Use a wet/dry vacuum to squeegee up the dirty water

Apply the correct shade of ColorSeal that rids the floor of the grid-work effect that dirty grout produces. We accomplish this with a stiff brush to massage the product into the pores of the grout to form a barrier that prevents re-soiling.

Finally, buff the tiles to get rid of residue and restore the new floor look.
Call us today for your Grout Cleaning and Tile Cleaning Free Estimate (203) 273-6803 for your home or office tile and grout cleaning.  We covered all Tampa, FL.  We service Hernando County, Hillsborough County, Pasco County, Pinellas County.  We also service portions of the following counties Polk County – East, Citrus County – South, Manatee County – North.
Grout Rhino is now on Pinterest.  You can follow us there and have more Tile & Grout Cleaning Tips.