Grout Rhino provides its customers with the best quality services for their residential or commercial flooring.  One of latest examples of Grout Rhino's commercial services is the fourteen-story Howard Johnson Plaza Hotel in Downtown Tampa, located opposite the Tampa Bay Performing Arts Center.
Originally built in the sixties, this Howard Johnson was renovated in 2007 and features a beautiful lobby.  It is located in the heart of Tampa and offers appreciable amenities at affordable prices.  As you can imagine, the hotel receives a large quantity of guests each day.
Before                                                                                                                                   After
In addition to the usual hotel guests, the hotel was also hosting a youth hockey team that was in town for a Hockey Tournament.  So Grout Rhino took on their own tournament: on one side, the tile and grout cleaning service with the power of the Rhino and, on the other side, 5,400 square feet of dirty grout and tile from young hockey players (the amount of embedded grime was formidable as well)
Grout Rhino will make your tile and grout look like new again
Nothing is too much or too dirty for Grout Rhino.   After 9 long hours, Grout Rhino cleaned the 5,400 square feet of grout and tile and restored the Howard Johnson Plaza Hotel to its former glory.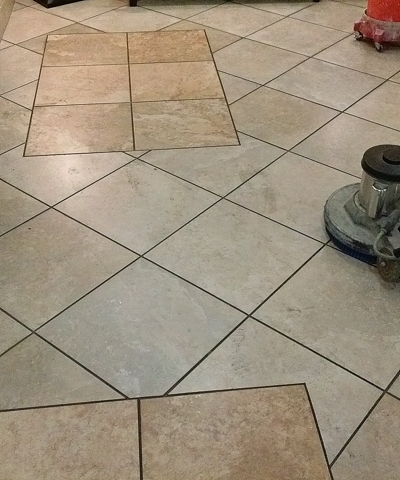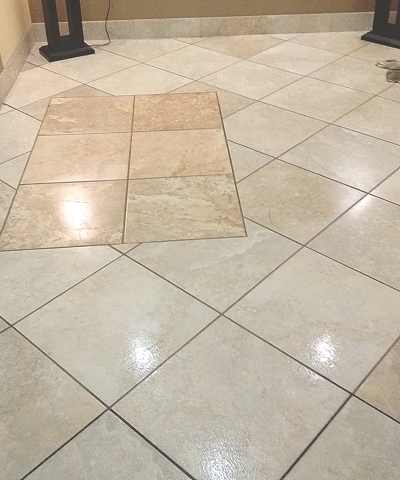 Before                                                                                                                                   After
Residential vs Commercial Grout and Tile Cleaning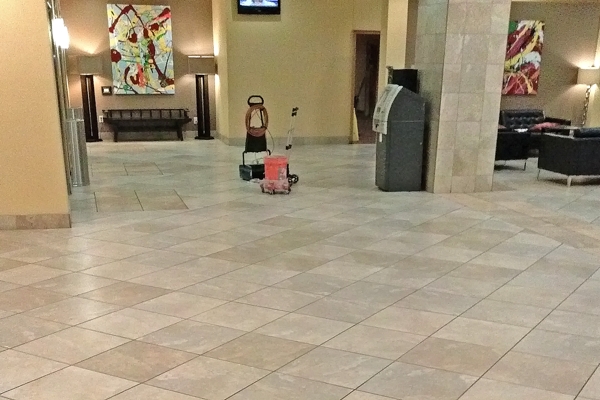 There are two very important things to take in consideration when working on commercial cleaning:
The foot traffic is significantly higher than a residential job.
The regular daily cleaning, mopping and sweeping is not sufficient to keep the floor and grout looking line new.  Periodic restorative maintenances are required to keep these floors looking their best.
Commercial cleaning is best when done after business hours.
There are fewer risks for your customers and employees and the final results will look incredibly better when your floor has the proper time to dry.
Grout Rhino prioritizes customer safety.
Even though the cleaning products used for the grout and tile cleaning are highly effective, it is critical that they are environmentally safe for humans, plants and pets.  There is no need for homeowners or business workers to have to evacuate the site due to unwanted chemical residues or smells.
No job is too big or too small.  Call us at (203) 273-6803 today or contact us for a Free Estimate for your Home our Business.
Visit: http://www.howardjohnsonplazatampa.com/